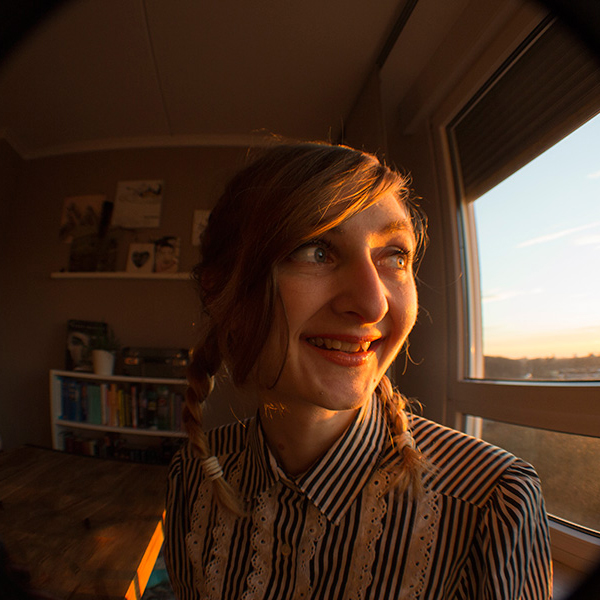 * 1990
uses "she" pronouns
since Aug 2019
Grafana Labs
Senior UX Designer

As one of Grafana's first ever designers, I help build up UX workflows and processes from scratch. I have run dozens of user interviews and ideated with developers and designers across the entire Grafana ecosystem. The results: Mockups, interactive prototypes, released features and a design system in progress. After being the sole UXer responsible for everything Grafana OSS, I have been Design Lead for the open-source squad and Alerting feature of Grafana since 2021. There I lead feature development for one of Grafana's core value propositions, alerting. I mentor UX designers, manage workloads and connect product management, UX, developers and leadership team.
Sep 2015 - July 2019
quäntchen + glück
Strategic Designer

In an interdisciplinary product innovation agency, I helped run Lean Startup processes to validate product-market fit for digital products from qualitative research to quantitative proof of customer interest. I was involved in all steps of the design process: personas, design sprints, user research, workshop facilitation, mockups and project management. Apart from UX and product development, I created corporate and brand designs.
Sep 2013 – Aug 2015
ADAPT OR DIE VENTURES
Visual Designer
I created the brand design for ADAPT OR DIE. In the process of creating the brand, I designed several websites and coordinated their launch, created print media and thousands of presentation slides. Furthermore, I built fake door MVPs and real MVPs for various product and service ideas like mix-your-own mineral water and
The Valley Experience
.
since Jan 2014
Jessica Müller Kommunikations­design
Freelancer

I create brand identities, print media, presentations and UX designs as a freelancer. Since 2016, I have leaned towards political design: I was Lead Designer for three election campagins for German mayoral elections.
Feb – Oct 2011
SAS Germany
Digital Marketing

As a working student, I helped the digital marketing team manage the SAS Germany website, coded new pages with HTML and CSS, created web ads and newsletters for e-mail campaigns. I did leave my mark by making animated GIF ads "a thing" at SAS.
Certified UX Writer
Berghs School of Communication, 2021
See my
course project here
12-week course on UX writing research, good and bad UX writing practices, writing for design systems and more
Nielsen Norman UX courses
NN/g UX Certification Program, 2020

Courses attended so far: Persuasive Emotional Design, The Human Mind, UX Assessments, Product and UX: Building partnerships
B.A. Communication Design
Mannheim University of Applied sciences, 2012 – 2016
Graduated with distinction (1.1 GPA)
See my
bachelor project here
Majors: Corporate Design, Brand Design, Interactive Media
Member of Student Council
B.A. English Philology and East-Asian Studies
University of Heidelberg, 2009 – 2012
Graduated with the grade "Good" (1.7 GPA)

Topic of Bachelor Thesis: "Multimodality in Memes: Why Rage Comics are multimodal texts"
Best graded paper: An analysis of a Neil Gaiman "Sandman" volume
Intercultural experience
Tôin High School, Ôita Prefecture, Japan, 2007 – 2008

Biggest learnings: How to bow correctly, the regional dialect of the Ôita Prefecture, dancing ParaPara, baton twirling
achievements and media coverage
UX Mentor
Since 2020, I have been mentoring multiple UX designers. I help them plan their personal development and career, consult them on their portfolios and projects and empower them in setting goals and advancing their skills.

Peter Drucker Purpose Summit 2020
I organized my first conference, the
Peter Drucker Purpose Summit 2020
, together with a team of management enthusiasts of all ages. The event took place February 12th and 13th in Mannheim, Germany and featured speakers like Jos de Blok (Buurtzorg) and Prof. Dr. Heinz-Walter Große (B. Braun Melsungen).
Lange Nacht der ZEIT 2019
I was invited to be part of a
discussion panel on the future of work
(one hour video, German only) for the sixth "Lange Nacht der ZEIT 2019" on May 4th in Hamburg, Germany.
watson.de: interview about the gender pay gap
Gave an interview about my uniform wage working at
quäntchen + glück
for the German e-mag
watson.de
to mark the Equal Pay Day 2019.
Design Iteration Award
Finalist 2018 with the
quäntchen + glück
rebranding project "Big Bäng".
brand design conference 2018
Conference speaker and research paper for
bdc2018
in London
over 1.1 million views on YouTube
Had my 15 minutes of fame thanks to getting on YouTube very early and posting videos from my student's exchange to Japan in 2007. In 2013,
the videos
went viral. Funnily, although my target audience was German, the majority of the viewers is Japanese.
UX and Design
Abilities
User Research
Wireframing
UX methods
Visual Design
Prototyping
Usability Testing
Ideation
Brand Design
Information Design
Typography
UX Writing
Paper Engineering
Tools
Figma
Sketch
Adobe CC
Davinci ReSolve
HTML & CSS
Strategy and Softskills
Mentorship
Workshop Facilitation
Remote Work
Stakeholder alignment
UX Strategy
Design Thinking
Behavioural Science
Creative Methods
Public Speaking
Project Management
Languages
Proficient
Elementary
Passions
Vintage Fashion
Sustainable Living
Cooking
Songwriting
Homerecording
Interior Design
Photography
Independent Film
YouTube
Videography